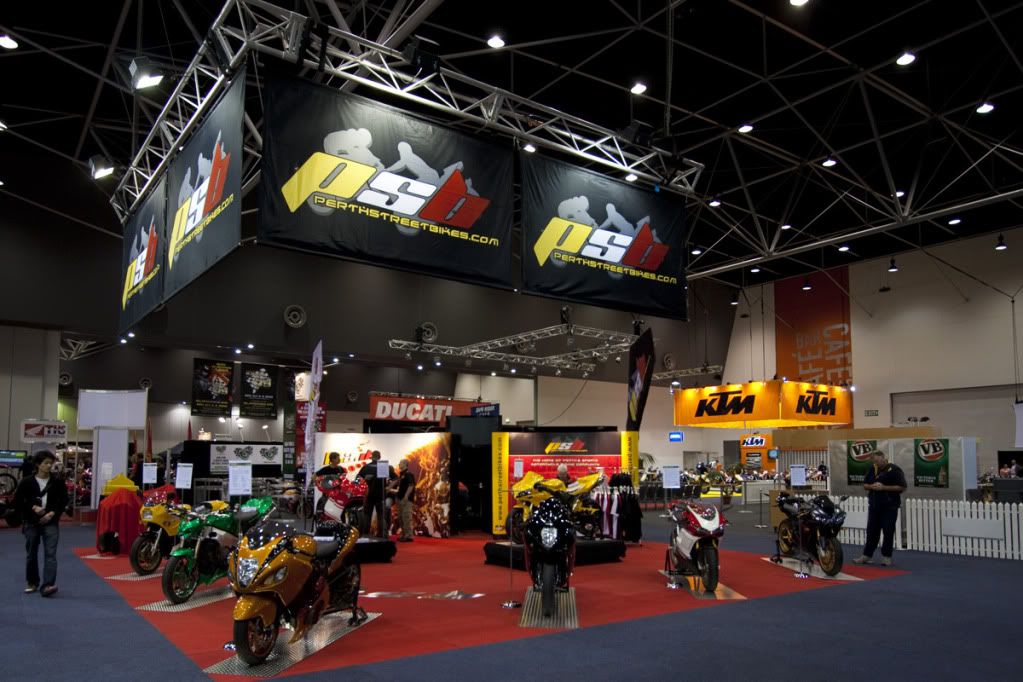 Would you like to have your bike on display at the outstanding PSB stand at this year's bike show?
The Perth Motorcycle & Scooter Show is only a few months away and PSB will have an even bigger stand this year, which means of course we have room to display even more of the fantastic bikes that circulate amongst our ever expanding community.
This year we are on the lookout for approximately 15-20 rare, unique, and beautifully presented bikes that represent a broad cross section of bikes owned and used by PSB members. Naturally sports bikes are our largest demographic so of course we will be wanting to display a proportionate number of them, but we would also like to see bikes that represent a cross section of all styles including but not limited to, streetfighters, classics, racebikes, cruisers, nekid bikes, cafe racers, by way of example.
Is your bike a bit unique, in perfect condition and would like to display it to the world? Then great, we need you.
What Sort of Bikes are we looking for?
The PSB stand at the show has always been a representation of the kind of bikes you don't normally see elsewhere in the show. The type of bikes we are chasing are the stunning, intriguing, or unusual. By this we don't mean a very clean but stock GSXR1000CBR1000ZX10R1 with aftermarket pipes, and some rear sets, and a tinted screen. No, we are after the sort of bikes that you can't just walk into your local dealer to look at. The bike with a limited production run, rare, a bike with a story, historically significant, or heavily modified, collectable, or a limited edition*, or just plain outstanding.
What condition does the bike have to be in?
Immaculate, concourse d'Elegance condition. We don't want to display a dirty, broken, scratched, poorly maintained, or half finished project bike even if it is rare. No, we want one that represents the pride that our community take in their chosen lifestyle.

What we expect from you
Your bike delivered either ridden or trailered to the Perth Convention Centre in a clean condition on Thursday 3 November 2011 before 3PM, and removed on Sunday 6 November 2011 before 8pm, or Monday 7 November before noon.
A little A4 size blerb about your bike that explains a little bit about it and the specifications or modifications it has (an example will be provided). This will be displayed on a digital screen located next to your bike so the uneducated punters can get an understanding of how brilliant machine it is.
What we would like from you or what you are welcome to do:
If you are able to or would like to attend the show during setup or on any of the show open days, you are welcome to. This will enable you to engage with the punters about your bike, and also keep a general eye on it.
What you can expect from us
We will display your magnificent specimen with pride and let the world marvel in the magnificence that is the PSB Community Bikes.
With your permission, we will keep your bike dust free and clean during the show and before each show day.
PSB Mods, Staff, and any other PSB members who help out at the show will do their best to keep the punters grubby hands, bums, and any nasty frowns away from your bike during the show.
An exhibitor pass so you can gain free entry to the show at any time.
Your Risk
The PSB volunteers in attendance will do everything they can to prevent your bike being touched, however by submitting your bike you acknowledge that PSB, its Staff, Mods, and Volunteers, accept no responsibility for your bike, are not responsible for any damage caused. You are displaying the bike at your own risk.
Great, Im in. What now?
Please email a recent photo of your actual bike to
[email protected]
along with a couple of paragraphs of information about what makes it so special. Please put "Bike Show – [YOUR PSB Username]" in the subject line.
In a couple of weeks a team of PSB folk will select the bikes we think are most relevant out of the available pool and let you know via return email.
Thanks yall.
Deejus
* FYI by limited edition we do not mean a stock bike with a limited colour run and some decals