I took a Triumph Daytona 955i for a long blat the other night and after getting off that beast (thanks to Topend for that!) and onto the Hornet I felt like i was riding a sewing machine. The Daytona had an after market micron pipe and sounded awesome. SO, i have decided to get some new pipes for the Hornet, a LONG overdue dicision, the question is which one?
Firstly, Should I go from twin exhausts down to a single on the right side or should i stick to twins to preserve the look of the bike?
Secondly, Shiny Polished Ali, brushed titanium or black Carbon Fibre? The 2 Bros titanium has a two tone chequer pattern as well?
Heres a gallery of Hornet Pipes. 56k DIE!
Then there is the Brands
Akrapovic
Yoshimura
Micron
Devil
Two Brothers
Staintune
Fuck theres a lot to consider isnt there?
Heres the short list....
Akros
Micron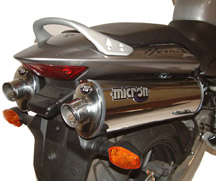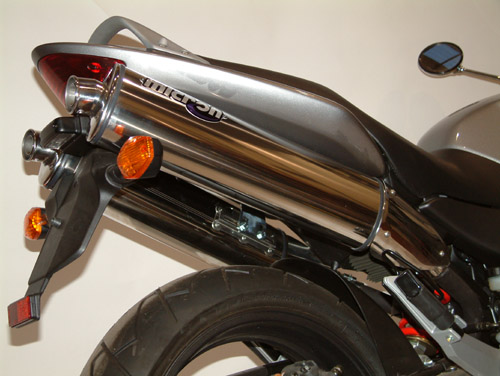 Devil
Yoshi
YOSHI WEBBY
Two Brothers
TWO BROTHERS
The other thing i could do is drop the pipe down low, but im not sure about that!