I just got back from Bangkok yesterday, I was in Thailand for about 10 days. Apart from the hordes of prostitutes, old crusty shirtless men walking around with said prostitutes and the odd surprisingly sexy lady boy, I noticed thousands of Thai people have a death wish on 2 wheels.
Motorbikes are very popular because they are cheap and easy to use and to park. Plus even cheaper fake Honda/Yamaha copy bikes are all but identical and are widely avaliable.
Many roads are 6 lanes with a maddening blair of horns, exhaust fumes and drivers dodging between lanes.
Yet people usually ride in shorts, short sleeves tshirt, often flip flops and often no helmet. Weaving in and out of traffic. They often carry passengers and the trendy thing is for girls in skirts to sit slantways on the back of the back, both legs hanging off one side, while the guy ducks through traffic.
I havnt uploaded any of my pics of the crazy scenes yet, so here is a quick googled one. This isn't a one of kind of thing, it's everywhere. This guy is probably dropping his kids off at school.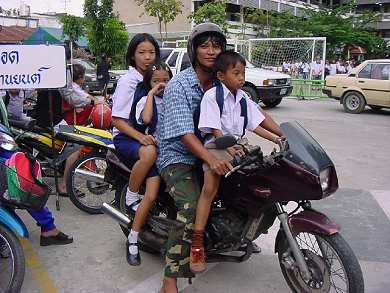 Now Thailand is a Buddhist country and they legitimately do take their spirituality very seriously. We went to a small temple, a local one away from the tourist areas. There were large statues of Buddha and a very peaceful atmosphere. A Thai man had just bought a bike, it still had the plastic shrink wrap on the seat. The first thing he did was bring it to the temple for it to be blessed by the monk, who wrote an inscription on the front just above the light. This is all well and good, but Buddha won't save you from the cages.
Also there are motorcycle taxi's, the roads are chock a block full of them. I blatantly refused to go on, even though it'd have been fun.
Whats the difference between coming off a bike with no helmet and gear at 60kmh in Perth vs in a poorer country where people cant afford those necessities? You'll be toast either way.
Have you ever travelled overseas and been shocked by the different standard and attitude towards safety? Ever hired a scooter or taken a motorbike taxi in Asia?