Maida Vale Road in High Wycombe, Brown Ford Fairmont Station Wagon circa 1970s rego 1AEP 894, driven by vintage fuckwit. He tears arse up the street past my sister's place (whom I am visiting at the time.) I leave a few minutes later and dawdle off down the road with my visor open (I like to get a bit of air flow for the first minute or so) It's my first mistake of the day.
The douche bag in the Dick-chariot decides to do some circle work in the T junction of Dundas and Maida Vale Roads, I'm coming up to the intersection and can hear but not see the wanker (he's off to the side.) I slow down to about 30-40 thinking he's probably in the next street over.(My second mistake)
He rips out from behind some trees and completes two revolutions before his sub-box detaches itself from the Flange-mobile and smashes through the rear window of his car showering the road and myself in shattered glass. I've got glass in my face and on my bike, worst of all it gouges the fuck out of my rear tire as I pull the bike off the road to clean my eyes out.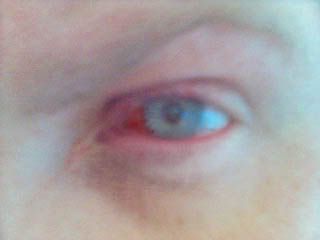 So minus one rear tire and some depth perception.

How was your long weekend?