Just thought I would post some interesting information I have found whilst doing some research for a presentation at work regarding Personal Protective Equipment (PPE), and my own experience of wearing it.
There is some interesting statics and good information for new riders about what we should wear, and how it should fit etc, provided by the Motorcycle Council of NSW.
Given the summer heat, as normal I see many riders out there in t-shirts and shorts, no gloves etc,... you know who you are, but that's your choice. However, one word I came across on the website which originated from the medical profession was this one,.....
De-gloving
- Meaning, to have your muscles and skin stripped from your body
Think about it!!!
Anyway, please check the site out especially the "What parts of your body should you protect" section.
Motorcycle Council Of NSW - Road Safety - Safer Equipment
And I leave you with some interesting results from their survey of "What do Australian Motorcyclists Wear?"
"What do Australian riders wear?
The majority of motorcyclists wear a helmet and jacket, they are less likely to wear motorcycle boots, pants or gloves. This is despite at least 20 years solid evidence that over 80% of motorcycle casualties have leg injuries.
In a survey of 796 motorcyclists in NSW, de Rome et al (2002), found that one in ten riders did not wear gloves, 15% did not wear motorcycle boots and 55% did not wear motorcycle pants. Over half the riders normally wore jeans (54%), apparently unaware that standard denim will last just over half a second (0.6 sec) when dragged along a road.
Motorcycle club members were more likely than non-club members, to wear motorcycle boots (89% vs 75%) and motorcycle pants (52% vs 36%) .
The situation was markedly worse for pillions. While riders and their pillions tended to wear similar jackets and helmets, the pillions were less likely to have motorcycle boots (only 60% vs 85% of riders), gloves (80% vs 89%) or pants (36% vs 45%). The graph shows the proportion of riders and pillions and the type of motorcycle protective clothing they normally wear (de Rome et al (2002), MCC Survey of Motorcyclists in NSW).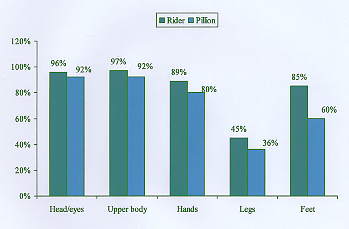 Motorcycle Council Of NSW - Road Safety - What do Australian motorcyclists wear?
DTM