Customizing your bike…..
Bike customization is about making your bike reflect you as an individual. This can be done by simple bolt-on replacement modifications, or the more advanced custom paint-scheme and custom stickers, right the way through to major frame and hardware modifications such as street-fighters and extended swing-arms etc. This morning I want to introduce and identify the availability one simple modification that will effect how you interact with the bike, as well as make your bike that bit more like your own. This is the beginning of a series of threads that will identify other bolt-on option that will personalize your bike.....
Replacement Levers.
Although the concept of the lever is to act as a fulcrum to be able to apply force to either open the clutch basket to remove drive from the gearbox, or apply force to a cylinder to apply the brakes, these levers with simple changes can look both visually different, as well as operate better. Since initial use, some level of adjustability has started to be incorporated by the Manufacturers, but even then the design is still very basic, and even between bike manufacturers, it is hard to tell the difference between one or another just by looking at the levers. Enter the after-market scene, where companies are in an ongoing battle to corner the market and produce the best lever. Outlined below are the different manufacturers, their designs and options to provide customization to what is a very small but highly important part of your bike.
Constructors Racing Group (CRG) Levers.
CRG - Constructors Racing Group
Probably one of the first manufacturers to do Billet Aluminium Lever design. Their design has been copied by many others, as well as improved upon. They have a bearing interface between the roller cam and lever mount to allow smoother position adjustment for their positions. They are limited to three lever colour options (Gold, Black & Titanium), and only have the option of Red Adjusters. They do come in either Short, or Long length levers, and have the additional option of folding levers.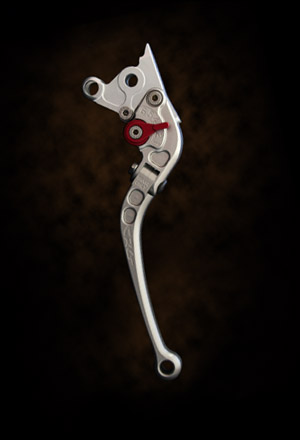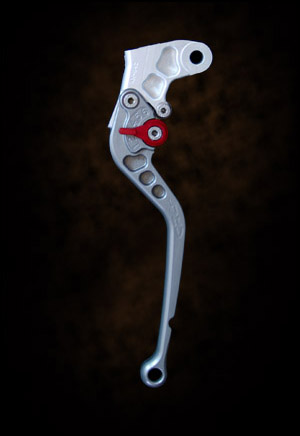 Pazzo Levers.
Pazzo Racing - Sportbike Brake & Clutch Levers
The Pazzo Lever has a different design for their adjuster, relying on a simple stepped solid block to adjust lever position, rather than the bearing interface of the CRG's. They have the many lever colours, as well as many adjuster tab colours. They also have the option of Long or Short lever lengths.
Titax Levers
TITAX adjustable levers and performance parts
Same roller-click design as the CRG's, with a bearing interface for adjustability. 6 clicks available. They come only in standard (long length), with the option of a folding ability. Available in 7 colours (Black, Gold, Blue, Red, Silver, Green & Chrome), as well as 6 clicker colours (Black, Gold, Blue, Red, Silver & Green)
Vortex Levers
Vortex Racing Components - Sprockets, Handlebars, Rear Sets...
Bearing Roller Click design similar to the GRG's, however a different click lever design. They are available in 6 different colours (Black, Gold, Blue, Red, Silver & Chrome), and have only a black option for the adjuster.
C-n-R Levers
Home PowerStandsRacing.com
Very similar design to the CRG's, with only minor CNC cuting differences. Available as both long and short levers, they come in 5 different colour options (Black, Gold, Red, Blue & Silver), with five options available for the adjuster (Black, Gold, Red, Blue & Silver).
ASV Levers
ASV Inventions
The new leader in the field (In my opinion). Coming from producing Motorcross levers, ASV have now branched into the Street bike field. Rather than only limiting themselves to only 5 or 6 lever position as per the other manufacturers above, they have changed the design of the adjustment system to be able to have unlimited adjustability. In addition, they offer a Five Year Warranty for their levers, something that no other company does. Available only as a standard or short lever, they have three lever colour options (Black, Gold & Silver), and two adjuster colour options (Black, Red)
Gilles Tooling Levers
Gilles Levers
A different design, something that Gilles is reknown for. Unlimited adjustability, and foldable levers. Available in Silver, Gold or Black, with long or short lever options..
If you see or know any additional manufacturers, please let me know so that I can add them to the list.......