(dodgy phone pics)
I initially bought this off a fellow PSBer for $500 with 6 months rego as a cheap fixer-upper/commuter.
Needed re-wiring/wiring diagnosis as indicators etc don't work.
Has a cooling system problem, as coolant enters the crankcase through suspected damaged water seal.
So the plan was to fix it up on the cheap and use it to commute.
Then another ZXR250 appeared on here which I picked up for $450 for the complete bike.
This one was binned so has damaged fairings/cosmetics, but everything else is good.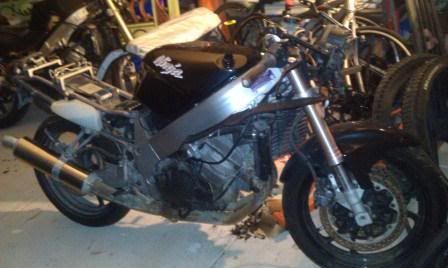 So the plan is to
Swap over the newer better looking swing-arm/rear end from the donor bike
Swap over the front end
Swap Engine/electrics
And that will get it running.
I have further plans to keep it naked with café racer inspiration.
Ideas:
Building a tubular trellis style sub-frame and build a custom solo seat.
Large round single headlight.
Remove and polish rims.
Tank/seat section colour: I've got a custom orange with white/gold pearl – similar to the XR5 pasty orange.
Paint frame/sub frame either white, or black (if I go black – ill do the headlight, forks black too) if white ill polish the swing-arm.
Paint engine black.
Build a custom GP style shorty exhaust.
Use the clip-ons off the donor.
I could have regd the donor bike, sold it at a profit, got the bunky going on the cheap and left it, but I figured I may as well build one good bike out the two – instead of two average bikes. And ill have some fun on the way.