Well, I can see this is probably going to be quite a long project, but as they say, you should always start with the end in mind. So this is something like what I am aiming for. A TR500 replica circa 1972 (the air cooled version) eligible for Period 4 historic racing.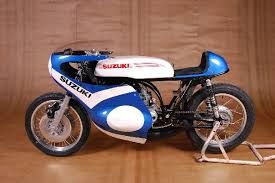 Back in 1971 I briefly raced the 250 version and for years have wanted to relive those "glory" days! Talking to the marital control board about it, she questioned whether I would be happy with only a 250 after racing a Supersport bike so after some careful thought (about 3 nano seconds) I agreed that a larger cc might be more enjoyable. I briefly toyed with the idea of a TR750 replica, even a widowmaker Kawasaki, but kept coming back to the 500 as a more doable and cost effective project as they had proven reliability and reasonable, if not outstanding, performance. So bang for buck, a 500 it was.
As I am living in the US at the moment I decided to start my quest here as parts seem to be quite cheap compared with Oz. Of course I will have to add the cost of freight back home when the time comes, but I think it will still work out cheaper. And so to ebay where I have spent many lonely hours scouring for bits. Got to shop around as prices vary significantly!
As a start I have bought a T500 frame and swing arm ($75US),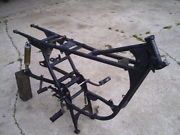 [/URL]
a rear wheel ($45US),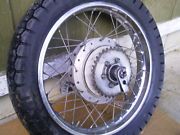 [/URL]
front forks and triple clamp off a GT550 as this gives me the twin disc setup ($122US), a GT550 hub (already drilled for 2 disks, $60US), The discs themselves ($50 the pair) have come off a GT750 water buffalo and they have been sent to a machine shop for 36 hole drilling which is essential for wet weather stopping, this will set me back $110US. A set of calipers off a GT750 for $35US (these will need a rebuild kit) completes the front end. I will probably mod the forks with racetech emulators and better springs at some stage.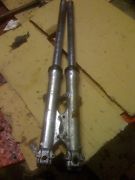 [/URL]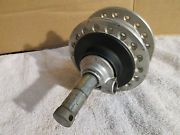 [/URL]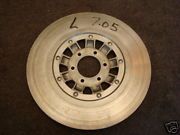 [/URL]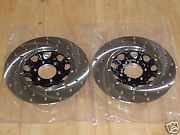 [/URL]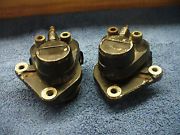 [/URL]
The guy I bought the frame off just happened to have one and a half T500 motors also which I picked up for $200! I haven't seen them yet, but as the motor will be totally stripped down and rebuilt, as long as they are basically OK, that will do.
Next item on the list is the aluminium flanged rims and spoke to build up the wheels and some racing brake pads and shoes. I already have some leads for those over here.
There seems to be endless information on converting the road bikes to a racing spec and interestingly enough, an Aussie site seems to be the most acclaimed and is hosted by none other than Perth based Murray Barnard. Don't suppose he is a PSB member? So already, some motor specs are starting to be thought about. My neighbour here in Vermont is an ex motocross tuner so we are having a great old time discussing porting and expansion chamber design. In fact he has got right into the intricacies of chamber design and I think we might be able to come up with something fairly special. I think many beer fueled discussions will eventuate before we settle on the final specs!
I will do all the rebuild back in Australia next year so if anyone knows a good 2 stroke crank rebuilder, let me know. Also if anyone has had a go at hydroforming for the the expansion chamber?
It will probably be fairly sporadic posts from here on in. Would love to hear from anyone who has any advice.