As some of you may know i killed my last side car on the last day of our trip in Tassie.
So the time has come to build another. But meanwhile i have been asked to build another for the Black Dog Ride around Australia next year.
First thing was to find a suitable bike and the decision was made to purchase a Moto Guzzi Bellagio. Nice bike and should suit the purpose.
Some parts have been ordered and delivered in readiness for the construction. Progressive 465 shock for the Guzzi, Radiantz tail light, Linear actuator for the Roadliner and a variety of brackets from our friends at Intra Cut. More to order tomorrow.
So this is the Guzzi.
[IMG]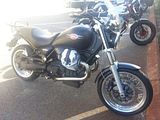 [/IMG]
And this is it after a couple of hours in the shed.
[IMG]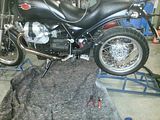 [/IMG]
The exhaust is being moved from the left to the right side to allow a bit more room between the bike and hack.
We had a play with design today and should end up with around 34 degree lean to the left and scrape pegs on the right.
So next weekend will see a bit more progress.
Cheers