So, I have had the Bullet for about 2 months now. I have named it Simba.
Simba is a 2010 C5 model that I bought 2nd hand w/2000km's on the clock. A lot of people stop and ask me about it -most are shocked that it's only 3 years old. I've lost count of the amount of times I've heard "You've done a great job restoring it" haha. I was, generally, surprised the bike gets such a positive reception in Perth. One servo attendant even said "Nice Harley!" once, so I'm definitely never going back there again.
Background - like all good bikes, Enfields were originally British. After WW2 the company partnered with an Indian factory to produce them under license. The English factory shut down and they have been made there exclusively since the 60's. The bullet, incidentally, is the longest running production motorcycle in the world - the factory (either in England or India) has churned these bad boys out flat stick since 1948 uninterrupted. Until 2007 they had barely changed at all from the bullets of years gone but then Enfield stepped their game and released an EFI motor - now here I am with Simba.
It is a great LAMS bike and is just super for riding about town and posing with all the other classics wankers at cafe's......some say buying the C5 model is cheating but fuck 'em. I would have loved a classic Enfield, however I'm smart enough to know that EFI, electric start and at least one disc brake are all very good things. The rear drum brake is largely ornamental and provides no friction based stopping power in any way, shape or form.
I will use this thread to document the bikes slow progress from mediocrity, to vaguely improved mediocrity. I've made a few cosmetic changes so far, nothing outrageous though.
The first was a bloody wash - the guy I bought it off lost it in a divorce settlement and the wife gave it back a year later. It sat in her shed doing nothing for a year and looked it - plenty of caked on dust etc. He got it back eventually and immediately sold it to me, the bike was tainted for him after that.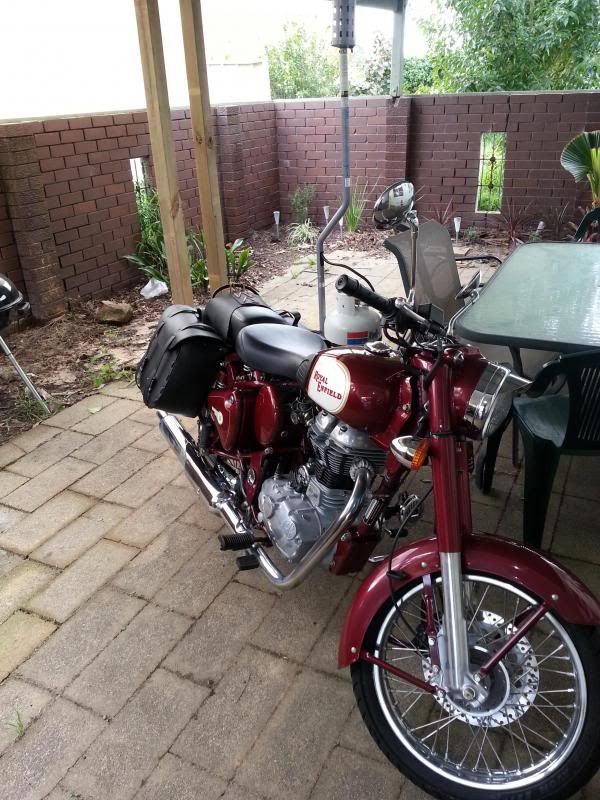 Now at least it's rideable - nice and shiny! I also decided to test fit the saddlebags that old mate threw in when I bought it. I figured they didn't look good so I took them off again. My next mod was to go on a PSB learners ride 2 days after I bought it and kill-switch myself in front of 50 other people (all waiting for me), with an L Plate on the back. Jolly good show.
Then I rode it for a while and decided the stock mirrors were deplorable and wanted to get some bar end mirrors for added street cred. I settled on the Napoleon's after some deliberation. To be honest, i should have gone for the round Halcyon's as these are a little more 70's/80's than 50's style but I think they look good nonetheless.
I bought some new indicators and shocks off some older guy in Sydney - the indicators are a little smaller and more discreet and the shocks are Hagon - a vast improvement. As production processes improve, so too have the build quality and tolerances of the modern Bullet. The quality of construction and parts is generally of a high standard, especially for bikes built in India. Unfortunately, the suspension is not one of those parts and still kind of rides a little bit 1948 spec.....the Hagons on the back are very supple and smooth in contrast.
The indicators are purely for looks. I think they are much tidier than the "what's left over in the parts bin?" OEM jobbies.
Today I got sick of the 14km long exhaust and how inane and tractor-like it sounded. I had taken to calling it Victa now, after the great lawnmowers. It sounded like one.
I think I may have gone too far though........share your opinions on the matter. New vs Old:
Here is a quick video of me blatting up and down the street (mind the airplane noise):
And one in the driveway:
I think it sounds better than the old setup, although very raspy when applying the beans and probably too loud. What's PSB's opinion?