Today I made a very poor financial decision and spent money that I don't really have on a bike that I don't really need. The good news is that at least it wasn't a great deal of money. The bad news is that it's going to end up being a good deal of money...
Things have been unusual for me lately. I quit my job, had an operation and scored a really large tool chest as an early Christmas present. Limping around the house with all of this free time was pretty frustrating and so I decided to organise my small work room, sorting my tools in to the new chest. It now sits in the middle of the room preventing access to everything else.
With this feat of genius achieved I decided it was best to buckle down and have a look for work on Seek. Now, I don't know if you've been on Seek recently, but there seems to be an overwhelming lack of pictures of motorbikes, the logical outcome of which was that I found myself looking at motorbikes on Gumtree instead.
Having only recently completed my Aprilia RS250, and now with a fancy new toolbox, I wondered what sort of bike might make me want to embrace my OCD nature once again. I entered some search terms and BLAM, there it was. A horrible looking 1985 GSXR750. In Bunbury.
Luckily(?) fate intervened in the form of a friend who "felt like a drive to Bunbury" (I thought that was a 'said no-one, ever' joke) and, as the bike was a non-runner, he even brought his trailer along. Such a good enabler.
So here it is - $1,500 of rattle-canned, first generation Gixxer.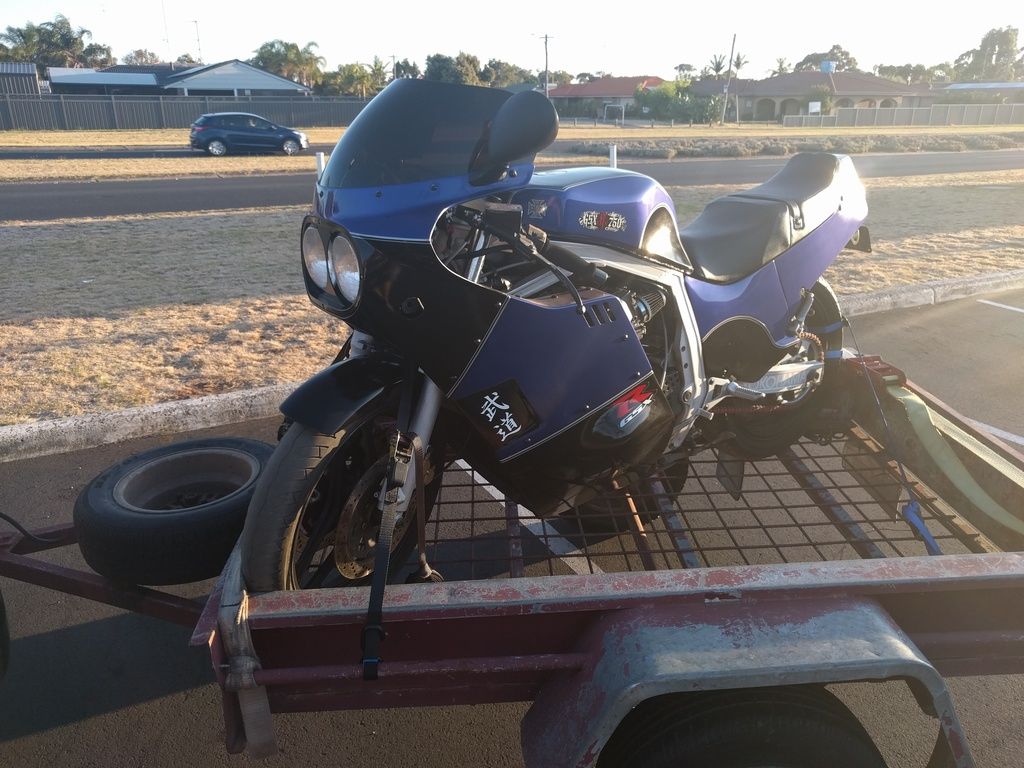 And that's how it's going to stay for a while, until I work out exactly what to do with it and locate the necessary parts. Help is welcomed and appreciated.
Rough plan so far:
Replace the front end with a modern upside-down unit and 17" wheel. Apparently they're pretty interchangeable with later model GSXR750 units, something something speedo drive, something something will 2011+ Big Piston Forks fit?

Replace the rear wheel with a something to match the front wheel - J model rims are a straight swap, but I'm keen to get a longer, braced swingarm anyway - what are my options? And what rear shock will that leave me being able to use?
The bodywork I think I have sorted - anyone have any experiences with Airtech-Streamlining? As for the colour scheme, no idea yet.
The frame needs bracing apparently, even for fast road use. Something about it weighing 8kg and the wall thickness of the alloy being too thin. I've seen some guides for the Katana, is it same-same?
And the engine. This one has been clocked but apparently is still strong. Being me I'm going to probably want to rebuild it along with the gearbox. I need to find an ignition advancer and some 36mm Mikuni carbs as well as Dynojet Stage 3 jets - amirite?
Exhaust. Maybe I fork out for a Yoshimura system. Maybe there are better ideas?
Thanks for reading