Hi All,
Was happily minding my own business on the weekend riding back from Alice Springs to Darwin (see first two photos).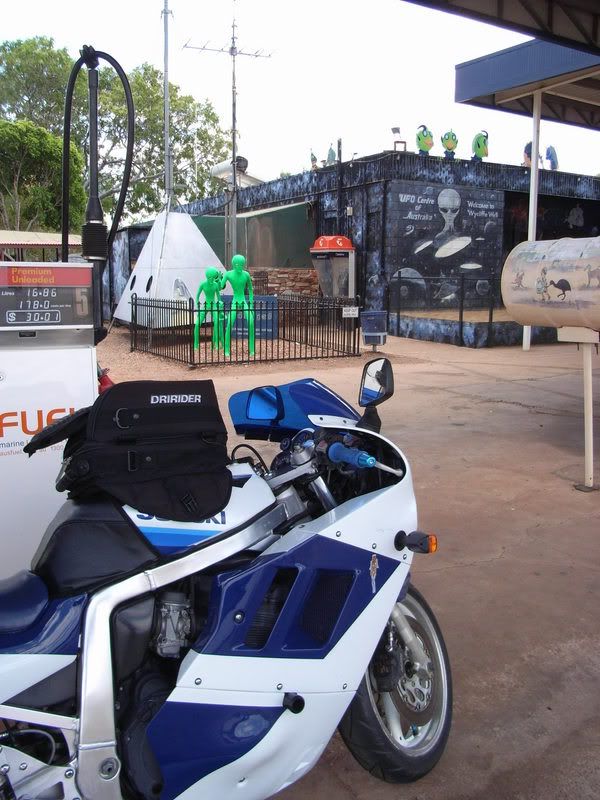 About 700km down the road, got speed wobbles. Stopped to check bike and found 1/3 of my rear tire had delaminated! Limped into Elliott 60km away. Could have been a lot worse...
My question is - do you think this catastrophic failure is unusual? I have a 1989 GSXR 1100. The tires (Continental sport attacks) were put on new this year and have done about 3000km touring km and 1000km commuting km. I have not taken them above 180kmph- the speed limit here is 130kmph.... I was told they were speed rated at least to 180kmph+.
I am thinking of contacting the tire company/importer/seller to ask if this failure is unexpected- because it definitely was a rude shock to me! Do you think this is worthwhile?
Many thanks for your opinions,
PS- if any of you do any serious touring- join the RAC or state equivalent. For $150 this year (top cover), I have been towed 3 times. For the towing from Elliott to Katherine it was going to cost $1300. They have covered it for me, put me up for the night and towed the bike to Darwin!