Righty-ho - the Roku 3.
What?
The
Roku 3
- a streaming media player capable of playing local content, but specialising in streaming internet content.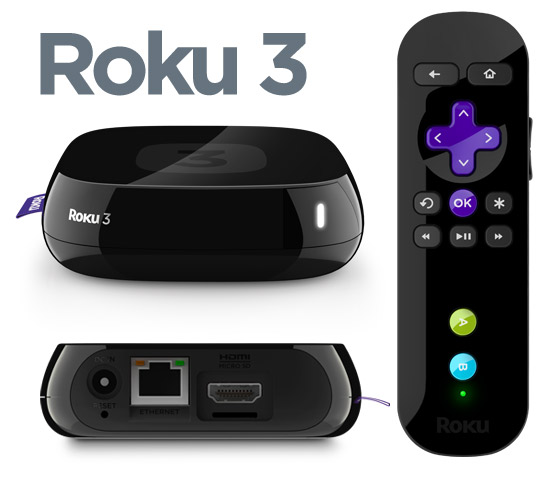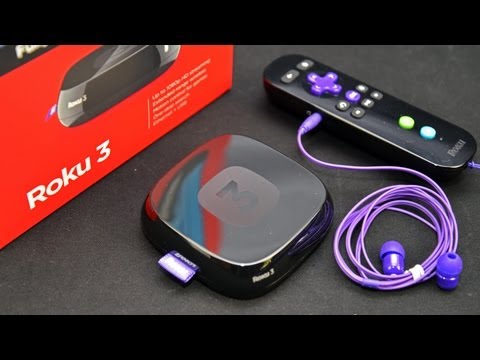 Some features:
1000+ entertainment channels, including live streams of international TV channels.
Remote with headphone jack for private listening.
Motion control for games.
One-stop search. Find your favorite movies and shows in a flash from top channels like Netflix, Hulu Plus, Amazon Instant Video and VUDU.
Free iOS® and Android™ app. Transform your mobile device into a Roku remote. Browse and add new channels. Even use your phone or tablet to send your music, photos and personal videos to your HDTV.
1080p HD support
Ethernet and USB ports,
microSD slot.
Why?
My WD TV Live box has been acting up for a while now - overheating and resetting itself. It's very annoying. So, looking at reviews on the net, I thought that I'd give it a go. It supports Plex Media Server, and that what we have set up at home.
Where?
Amazon.com, for $US88
. Bargain.
Impressions:
It's small, and polished - the interface is nice, and it runs smoothly. Signup and setup was easy, and the playback is silky. The remote is comfortable, and is nice to use. I'm very happy with it.
What you need:
The Roku 3
An Australian power supply. The Roku comes from America, and thus with the wrong supply. Dick Smith sells a 12vDC 1.5A supply for around $30, which does the job perfectly.
An internet connection. Netflix and Hulu both stream perfectly well over out 4 megabit DSL.
If you want Netflix and Hulu, you need an account with a VPN service.
Unblock-Us - smarter faster VPN
is perfect, and costs $5/mo. You can get free VPN services, but they tend to be overtaxed, and thus too slow. Unblock-us has a 14 day free trial. Try it out.
Netflix and Hulu both need you to sign up with an American address. Once you've connected to your VPN service, you can sign up to both services. Australian Credit Cards work, although there are reports that Commonwealth Bank cards cause a few problems, and you may have to try 3 or 4 times. Make up a street name and number, and then use
https://tools.usps.com/go/ZipLookupA...2&refresh=true
to match a US postcode to a town name. Hulu and Netflix both cost $US8/mo each, and both offer free trials.
Watch Netflix in Australia With These Detailed Instructions
Problems:
The Roku 3 does NOT support DLNA streaming or file shares. You actually need proper streaming server software. A USB drive attached to your DSL router WON'T do.
The interface differs significantly between services. This is because, like on your smartphone, the different services have different apps, each made by their own company.
The timezone will always be wrong. As the Roku 3 isn't made for Australia, you can never set the timezone correctly.
You can't set DNS on it, so you have to change the DNS on your router.
Roku doesn't support Youtube yet. Apparently there were unofficial plugins for it in the past, but Youtube forced them to be shut down. As of August this year, Roku was still in talks with Youtube about getting official support