So now that Ride 3 is officially out (launched last Friday) I figured a thread for it was in order.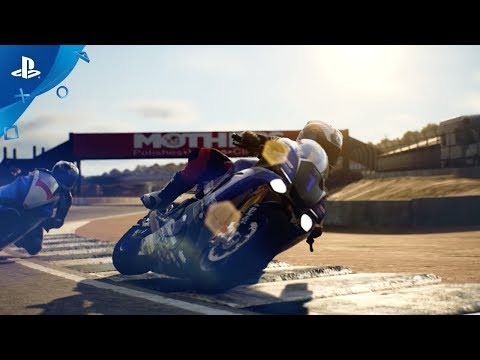 Anyone else here playing it? What platform are you playing it on and how are you liking it?
I'm playing on PC and quite enjoying it. I'm a few hours in and feel like I've only uncovered the tip of the ice berg, so many more bikes and tracks to try. I only own like 10 of the 200+ machines in there and they are mostly ones I've won for completing event packages. As for tracks they, are slowly trickle feeding them to you over the course of the campaign, which so far keeps it feeling fresh and doesn't force you to have to learn them all in one hit.
Overall I consider it a nice step up from number 2 in almost every regard. The handling has been changed, don't know if I would say improved but certainly different. I still think it's mostly realistic but with a bit of arcade flare. It probably took me at least two hours of riding time adjust to the 'feeling' of Ride 3 although there is definitely a bit of under-steer which you need to account for. On the flip side turning in is FAST in comparison to other entries of the series. Those first couple of hours I was binning my shit everywhere and making heavy use of the rewind feature (lets be honest, I'm still rewinding a lot). I was getting frustrated at the game however once it clicked I found I could ramp up the difficulty and still be competitive with the AI. The audio, visual, and controller vibrations all combined together help pin point the edge of grip and how hard you can brake. I've found now after one or two laps with a bike I start to have a good idea of how hard I can push it. I also recommend leaving racing line off, it's something I used in previous games to help learn a track but I'm having so much more fun without it and forcing myself to learn with trial and error (remember that rewind feature I mentioned
). That sweet satisfaction of pulling off a smooth overtake and hitting all your brake marks and apex's is definitely still there.
The graphics and sound have also been improved. I think the graphics look nice enough, nothing mind blowing but enjoyable. That being said I've heard there is quite a bit of variation between all the consoles (pro model vs standard, xbox vs playstation). I'm on PC as mentioned and have everything maxed out (now I'm thinking about it I think I turned down AA one level) and it runs silk smooth. Bike sounds are overall
good
but also quite variable. Some bikes sound great and when there are multiple riders surrounding you the cacophony of exhaust notes and engine pops is very immersive, especially with some good headphones. On the flip side some bikes sound terrible, I have a 2004 zx6r which sounds absolutely mint. I then went and bought a Daytona 675 and it sounds like complete crap, as if the entire sound effect library for the 675 is synthesized while the zx6r was properly recorded.
There is heaps more to talk about like the livery editor, the online multiplayer (hit me up if you're on PC, I'm keen to have some races), bike modding, the in-game camera (I'm having fun just racing but will start taking screenshots soon) etc. I'm really enjoying it!