Posted on behalf of the artist Sharon...MODS would appreciate if this could be stickied.
Hi Guys,
Our 2007 Limited Edition Casey Stoner Prints are hot off the press!!!! These quality prints are taken from a hand drawn pencil artwork lovingly created by fellow PSB'er Sharon Abrey. Each print is signed and numbered by the artist. These prints would make a fantastic Christmas present, or just great to hang on the wall as a beautiful reminder of Casey's awesome 2007 year! They are selling for $50 each, there are only 100 limited edition prints produced, so be quick because these will sell fast.
These prints (and the 2005 Rossi print - of which there are only 20 left) will be on display and for sale at the Kings of Wanneroo at Barbagallo Raceway this Sunday. If you will be attending, and would like a particular print number up to 100 reserved to pick up this Sunday, please let me know by replying to this post and I will reserve that number for you. (Numbers 1, 22, 23, 27, 61 and 77 have already been sold.)
Cheers
Sharon Abrey
9295 5207
0401 537 835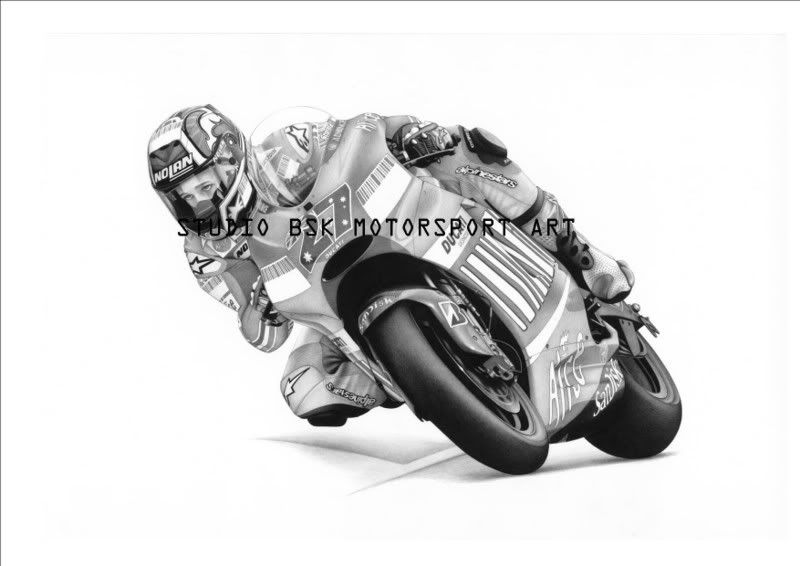 If you have any inquiries..please ring Sharon direct on the numbers provided.